 Junction box is for joining two Ethernet CAT5E cables with each other without any usage of couplers and connectors. A CAT5E junction box functions just like an inline coupler and if one needs to join two wires permanently, it is perfect to have as direct a connection as feasible.
Moreover, it is an inexpensive and simple option if one needs to extend a cable that is either too short or do not care to run a new cable altogether. One does not need to worry about the connection being unstable in the punch down connection as it provides secure continuity.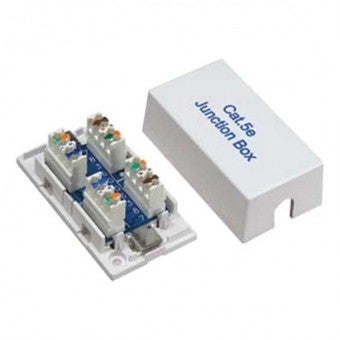 One can easily use the junction box with un-shielded twisted pair Cat5E cables. It also works very well with 110 and Krone punch down tools.
Junction boxes being the devices containing the wiring intersections, allow the wiring in the home or in the public edifices to connect with the main power supply advanced by a local utility.
The CAT5E junction box is mostly considered to be both practical and more graceful than a bunch of bare electrical wires. The main purpose of a junction box is actually to keep the electrical junctions out of sight.
Usually made of metal or hard plastic, the general look of the box is either a square or a rectangle. A door on the front gives a way into the interior.
The door may be temporarily suspended in the front of the junction box, or the complete covering may swing upward or downward to give way to the junctions inside the device.
At homes, the box proper is temporarily suspended into a wall, with only the front panel open to sight. While it is correct that the box is a tidy way of hiding the electrical junctions, the actual value of the box is to provide a level of protection for the wiring connections at various intersection points.
It also helps hold sparks in the incident that one of the junctions overloads for some reason or the other, and therefore limits the amount of harm that might take place. The typical junction box includes a safety switch that permits the connections inside the box to shut down immediately in the case of an emergency.
The life of a CAT5E junction box can be calculated in decades. The junction boxes are simple to use, effective and come with a lifetime warranty which makes sure that the purchase is free from any kind of manufacturer shortcomings.