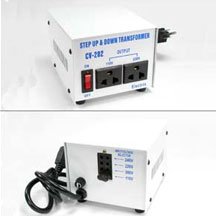 A step-up transformer is employed to increase voltage from primary to secondary and a step down transformer is used to do the reverse job. You can choose from step up/down transformers at SF Cable.
We have AC Transformer 500W among other products which you can get delivered at your doorsteps.
We offer our products at very competitive prices without compromising on their quality. All our products are sourced from ISO 9001-2000 registered manufacturers. We also offer good after sales service and lifetime technical support on all our products.