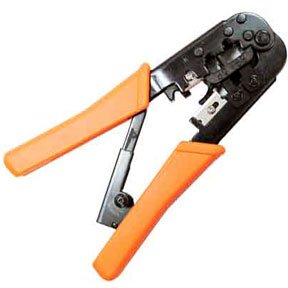 Modular plug crimp tools are more advanced and let you or your technician do the work much more effectively and swiftly. You can get an wide array of modular plug crimp tools in at SF Cable and get them delivered at your doorsteps.
We have 6C & 8C ratchet type crimp tool for RJ45 modular plug, D-sub pin crimp tool, RJ11-RJ12 crimp tool, RJ11-RJ12-RJ45 crimp tool, RJ11-RJ12-RJ45 crimp tool with ratchet, RJ45 Crimp tool, RJ11 -RJ12 - RJ45 Ratchet Crimping Tool with Cutter Etc.
All our products are RoHS compliant that speaks for the safety of the product. Sourcing the products directly from the manufacturers let us cut costs and deliver them at competitive prices to our customers. We also provide good after sales service and lifetime technical support on all our products.