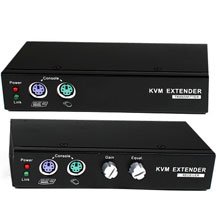 You can now shop for VGA/PS2/Audio Extenders at SF Cable. We have a range of products in this category. You can choose from multiple products and get them delivered at your door steps.
We have VGA extenders, Linkskey DVI digital video signals repeater, Linkskey Cat5 PS2 VGA KVM extender set, QVS HDCP certified 100ft Digital video/HDTV repeater/extender, and many other products to choose from.
All our products are RoHs certified and doesn't cause any hazard to the environment. Safety and quality are our two ultimate goals along with providing competitive rates to our customers. You can also expect good after sales service and lifetime technical support on all our products.