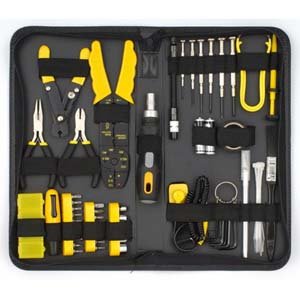 Having a tool kit at your home or office is a must to facilitate immediate requirements swiftly. You can find many such tool kits at SF Cable and order one according to your requirements.
We have computer tool kits, maintenance tool kits, precision screw driver kits, digital sound level meter sinometer, technicians tool pouches, technicians tool kits with wire cutter, technicians tool kit with wire and level and tape measure, technicians premium tool boxes, regular digital volt meters, deluxe digital volt meters, etc.
All our products at SF Cable are available at very competitive prices and are sourced from ISO 9001-2000 registered manufacturers. We, at SF Cable ensure the products are safe to use and are environment friendly. You also get good after sale service on all products.