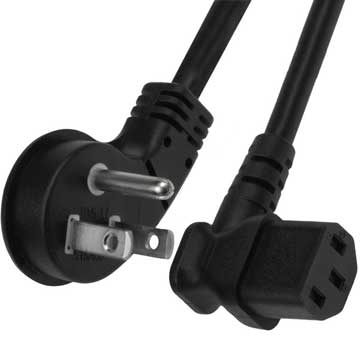 Angle power cords can be used for a variety of electrical devices, but is mostly used for computers. The angle of such cords is helpful in routing the cords in tight spaces or corners. Sf Cable stocks a wide variety of angle power cords of various pin types.
Our collection of angle power cords include various types of NEMA 5-15P to C13 right angle power cords and NEMA 5-15P to 5-15R angle power cords. Our angle power cords are available in both black and white colors with lengths ranging from 8' to 20 ft.
Sf Cable is a leading retailer of a huge variety of cables and wires and we provide premium quality products at low prices. All our cables and cords are sourced directly from ISO 9001-2000 certified manufacturers and come with 60 days money back guarantee and lifetime technical support.