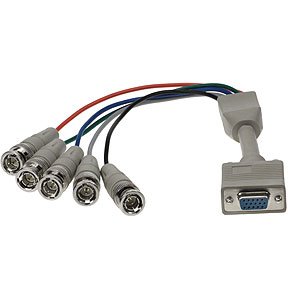 Component RCA/BNC to HD15/VGA connects a DVD player, Cable/Satellite box, Home Theater receiver, or security DVR to a display or projector with a VGA input. These cables will not convert VGA to Component on a PC or Laptop.
We have a range of VGA Breakout Cables including HD15 VGA Male to 5 BNC Male Cables, 4 BNC Male to 4 BNC Male cables, 5 BNC Male to 5BNC Male cables, HD15 VGA Male to 5 BNC Female Cables, HD15 VGA Female to 5 BNC Male Cables, and many other products. All cables are available in various lengths to cater to your varied requirements.
Our ISO registered and RoHS compliance speak for the quality and safety of the products. All products are available at very competitive prices and are eligible for lifetime technical support.