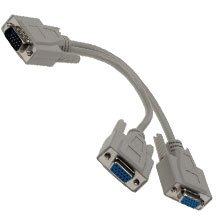 VGA splitters enables you to output the video from your computer to two monitors or displays. Splitter will allow for the same image to be shown on 2 or more displays.
We have Cascadable Video splitters with Enh Video Bandwidth 350 Mhz, VGA male to female splitter cables, and other VGA splitters with different specification to cater to individual requirements.
SF Cable constantly keeps up the efforts to offer you products at reasonable costs without compromising with the quality. Trusting only ISO 9001- 2000 certified manufacturers helps us maintain this flawless standard in the market. Customer satisfaction and good after sales service continues to be our first priority.