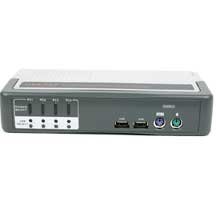 KVM switches are hardware devices which allow you to control multiple computers from a single keyboard, video display monitor and mouse. They come handy in data centers to ease tasks.
We have smart keyboard/mouse switch, 4 way KVM for PS2, 2-port DVI USB KVM switch, 2-port DVI USB Audio Mic KVM switch, Linkskey dual monitor enhanced DVI KVM switch, Single-mode SC fiber converter, Slim Palmtop USB audio and Mic KVM switch, KVM switch box with cables, Mini USB KVM with cables, and many other products available with different specifications.
All our products are RoHS compliant and environment friendly. We source all the products directly from the manufacturer, hence eliminating the cost of middlemen which helps us to keep the costs minimal. We work with dedication to achieve customer satisfaction and provide lifetime technical support on all our products.